How long does it take to immigrate to Canada through Express Entry?
Express Entry is a system intended to provide fast immigration to Canada. For a perfect candidate with a competitive CRS score, the whole process (From submitting Express Entry Profile until PR Grant) may take six months or even less. However, this may be delayed due to social or global issues.
Should I apply alone or with spouse if I'm married?
It is better to apply with your dependent applicants like your spouse and kids. If you do not include them in your Express Entry Application then you will need to apply for them again in the future which will add additional costs to you in the future.
If you decide to include your spouse, you must prove your relationship with your spouse by providing sufficient documents like the following:
shared ownership of residential property

joint leases or rental agreements

bills for shared utility accounts

important documents for both of you showing the same address, such as:

driver's licenses

insurance policies

identification documents
How much does it cost to complete the whole Express Entry Process?
Please note, fees are shown in Canadian dollars.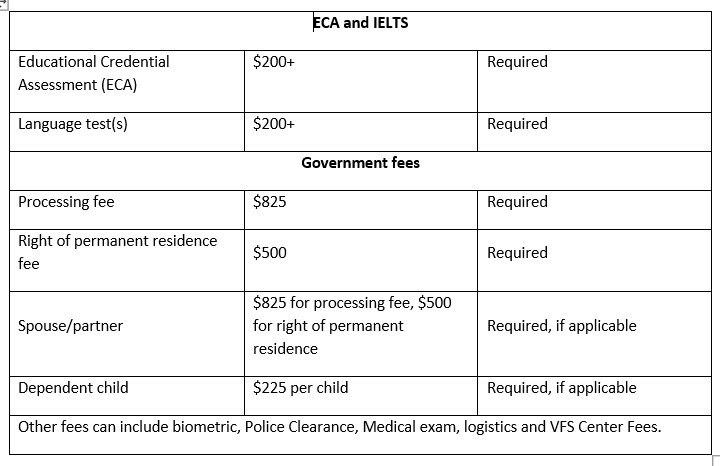 Will I get any Refund?
If your application is incomplete, IRCC may refund you the following:
Processing fee

Right of permanent residence fee (if you've paid it)
I am confused about the differences between 67 Points System and CRS?
This score is given to candidates who enter the Express Entry pool. This means that you have to first get through the 67 points system to be eligible to apply for Canada PR under FSW program.
To compete among the candidates inside the pool, CRS (Comprehensive Ranking System) grid is used. CRS point system is calculated out of 1200. In which 600 is for your skills/Education/Background and remaining 600 is for Job Offer/Provincial Nomination
What is the difference between Express Entry and Non-Express Entry Stream?
People who don't qualify for Express Entry may apply to provinces and become Provincial Nominees. Candidates can get through by applying for PNPs which are Non-Express Entry Streams.
Which is better, PNP or Express Entry?
Express Entry program is a federal program that selects individuals using standards established by the federal government. PNP selects individuals based on the criteria of distinct provinces. Both programs are great for you, but you will need to stay in your selected province for 2 years.
How long will my Express Entry Profile be active?
Once you receive an Invitation to Apply (ITA), you have 60 days to complete and submit your profile.
Which ECA Authority is best?
It depends on your education and degrees you have. Most people prefer World Education Services.
Which language tests are accepted for Express Entry?
Under Express Entry, there are two accepted language tests for English and two accepted language tests for French.
Language tests for English:
IELTS General Training (the Academic version is not accepted for Express Entry), and

CELPIP General
Language tests for French:
Test d'évaluation du français (TEF)

Test de connaissance du français (TCF)
What is the Job Bank?
Job Bank and Express Entry let suitable employers in Canada and eligible foreign skilled workers connect with each other more easily. Every effort must be made by the employer to attempt to find a Canadian or PR first to fill their job vacancy before a talented immigrant is considered.
This is a great platform with jobs and Canada labour market information. The Job Bank has over a million jobs posted every year.  Express Entry candidates must get the best out of this site. Getting a job offer from a Canadian employer will boost your CRS score.
What is the best thing to do while I am waiting in the Pool?
You can jump into a Job Bank account and find suitable jobs for you. Job Bank is a database that will help match you with employers looking for workers. To do this, you will need the "Job Seeker validation code" you received once you submitted your Express Entry profile. Once you come to Canada, you will keep using Job Bank to seek out possible jobs.
When will the next Express Entry Draw take place?
Express Entry draws usually take place every second Wednesday. Though, the government of Canada has the full authority to decide about the draw timing.
What are my chances of success in Express Entry?
You can do a rough calculation of what your CRS score might be by using the Canada's CRS calculator. Compare this score to the CRS score cut-off within the most up-to-date draws. This should provide you with an idea of your chances of success in Express Entry. If you are far below the cut-off score, contact us now to assist you as there are around 80 Immigration Streams in Canada.
Can I immigrate to Canada even if I'm not eligible for Express Entry?
Yes. There are many pathways for Canada immigration. Many individuals from India, Pakistan and Vietnam come along with low CRS scores. But eventually they can migrate to Canada through some different programs.  Fill up this form to assess your options for Canada migration with your low CRS score:
Excellent! How can I get started with my application process?
If you meet all the requirements and are ready to try your hand at Skilled Migration to Canada, head over to Konan Law! We are a distinguished Canada Immigration Expert in Toronto, Ontario. We are proud of our team of highly qualified immigration professionals. Visit our website, or give us a call to take the next phase in your Canadian Skilled Migration application procedure!
---