Self-Employed Persons Class. Business Immigration to Canada 
A person engaged in his own business or self-employed in cultural activities or athletics who wishes to apply for a permanent resident visa in Canada may do so under the Self-Employed Persons Class. This program may be the best option for artists, painters, musicians, designers, actors, filmmakers, screenwriters, producers,  sports coaches or athletes.  It is helpful to know that admission of these individuals can be facilitated and the Canadian Government even welcomes and encourages these types of visa applications. 
Who are qualified under the Self-Employed Persons Immigration Program
This program is not applicable to everyone and relevant experience prior to the date of application is required for self-employed immigrants. In particular, for at least 2 years beginning the 5-year period prior to the application, the applicant:
Has been self-employed in cultural activities or athletics; or

Has significant participation in cultural activities or athletics at world-class level.
You can have either 2 years of self-employed experience, or 2 years of participation at a world-class level, or a combination of 1 year of self-employment and 1 year of world-class participation.
Additionally, self-employed aspiring immigrants must possess the necessary experience, ability and intent to establish a business. Such business should be able to at least:
create employment opportunities for themselves; and

make significant contributions either to cultural activities or athletics in Canadian society.
You will receive more points if you have from 3 to 5 years of experience.
Note: There are no immigration conditions imposed on this particular class.
If you have already passed the definition of a "self-employed persons class" applicant, then you are now eligible for the next round of assessment. This includes being assessed against a so-called "Selection Criteria".
The Selection Criteria involves 5 Selection factors, which are the following:
Age;

Education;

Official Languages;

Experience; and

Adaptability
Each selection factor has a corresponding number of selection points that are prearranged or fixed. For example, if you earn a score that is lower than 35 points, there is a huge likelihood that your application may be refused.
Note: The passing mark for self-employed persons class is 35. It is therefore important and helpful that before you apply under this class, you must first make a careful and thorough assessment. This is especially true considering the fact that processing fees are non-refundable, even if your application is refused.
Table of Selection Factors and their Corresponding Points
Should an applicant scores equal to or higher than 35 (the passing mark), he or she may then be considered qualified to immigrate to Canada under the business/self-employed class.
Selection Factor 1: Business Experience
At least 2 years of business experience must have been obtained prior to the date of application. The more years of experience you have, the more points are allocated. Below are the specific points allotted in terms of one's business experience:
There is also a corresponding number of points given to an applicant based on his or her current age at the date of application.
Selection Factor 3: Education 
In order to be awarded points, you must meet both criteria for educational credentials and the number of years spent for full-time studies or full-time equivalent studies.
         "Education credentials" pertain to any diploma, degree, trade or even apprenticeship credential, that is issued upon completion of a particular study or training program at a recognized educational or training institution.
         "Full time studies" mean that you had at least 15 hours of instruction per week during the entire course of an academic year. This is inclusive of time spent for workplace or on-the-job training that forms part of the curriculum or course.
        "Full-time equivalent studies" is applicable in situations where you have completed a study program either on a part-time or accelerated basis. For this, it is necessary that you count the estimate duration you would have spent to complete the study program on a full-time basis.
If you completed a program of study on a part-time or accelerated basis, count the length of time it would have taken to complete the program on a full-time basis.
Note: If you have not yet completed the number of years of study spent on your highest educational credential, you may base your points on the actual number of years you spent on your study.
For more clarity, please see the following table:
Selection Factor 4: Official Language in Canada (English or French)
One's ability to speak Canada's official languages – either English or French, plays an important factor in assessment and scoring. The fluency and proficiency to speak either of these official languages can help you perform and adjust in the labor market of Canada.
Points are awarded based on an applicant's ability to listen, speak, read, and write. A maximum number of 24 points will be given depending on your English or French proficiency level – Basic, Moderate or High.
It is important that you use your test results from a designated testing agency in order to determine the number of points to be given based on your proficiency level. Add up all your scores based on the following given table at https://www.canada.ca/en/immigration-refugees-citizenship/corporate/publications-manuals/operational-bulletins-manuals/standard-requirements/language-requirements/test-equivalency-charts.html
Selection Factor 5: Adaptability
You can receive additional points for your spouse's/partner's level of education, your previous work or education in Canada, or even if you or your spouse/partner has any relatives in Canada.
The above-discussed selection criteria, requirements and other information for applicants vary from time to time. It is vital to remember that applications are being processed in accordance to the rules and regulations effective at the time of the application.
For last news and updates regarding the selection criteria, regularly check the Immigration & Citizenship webpage found on this link: https://www.canada.ca/en/services/immigration-citizenship.html
Monetary and Financial Requirements to Settle in Canada
Canadian law requires persons who wish to immigrate to Canada to declare cash funds amounting to $10,000 CAD or more. Cash funds pertain to money, securities and negotiable instruments in bearer form. These funds are needed to be disclosed to a Canadian official upon arrival.
Take note, however, that no financial support for business immigrants is provided by the Canadian government. All self-employed persons applying under this class are required to establish that they have sufficient financial means to support themselves and their family members for at least 1 year upon their arrival to Canada. Normally, the applicant's net worth is taken into consideration.
How to Apply as Self-Employed Persons Class: Application Process 
1. Completely fill out the application forms
2. Gather the necessary documents 
3. Accomplish other required procedures
You and your immediate family members are required to undergo and pass medical examinations. It is very important that neither one of you is a danger to Canada's public health and safety or would otherwise cause unreasonable and excessive demand on Canadian health or social services. (E.g., ongoing hospitalization; physical or mental illness requiring institutional care, etc.)
Medical instructions are provided by the IRCC upon receipt of the assessment notice. The applicant is responsible to cover the fees associated with the medical exam.
A list of the IRCC authorized physicians to conduct immigration medical exams in your area can be accessed here on this link: https://www.cic.gc.ca/appsurl.asp?id=4&lang=eng
Note: The validity for medical exam results is 12 months from the date of the exam. If the application is still not finalized within this time frame, another medical exam may be required.
The applicants and family members may also need to personally appear to have their fingerprints and photographs taken. Prior appointment booking at specific biometric collection service points is necessary before you can give your biometrics.
Follow this link to check the nearest biometric collection service point in your area: https://www.cic.gc.ca/english/information/where-to-give-biometrics.asp
Note: Canadian citizens and existing permanent residents therein are exempted from giving their biometrics.
A table of fees is provided below:
Payment can be made online and instructions can also be accessed through this link: https://www.cic.gc.ca/english/information/fees/pay.asp
Remember to print 2 copies of the generated IRCC official receipt with a barcode. Attach the first copy of this receipt to your completely filled-out application and keep the second copy for your records.
Note: The printed official receipt serves as your proof of payment.
5. Submit your application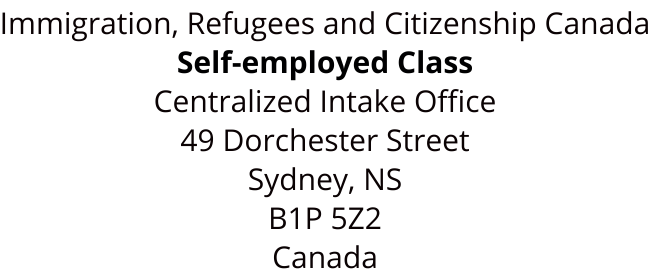 If you are going to use mailing services, send your application to the address abve: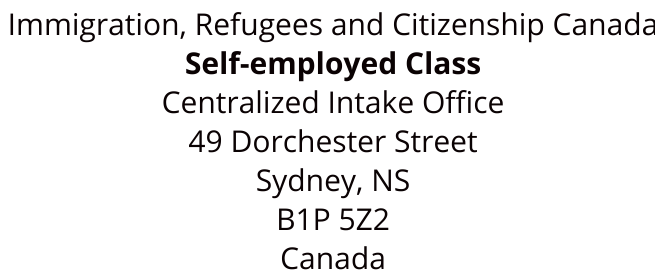 If you opt to use courier services, use the address above:
6. Check your application status regularly
If you are in Canada or in the United States:
You may either contact the IRCC or use this link to check the current status of your application: https://services3.cic.gc.ca/ecas/security.do?lang=en
If you are outside Canada and the United States:
Please contact the Canadian embassy, high commission or consulate designated at your regional location.
The processing time for the Self-Employed Persons Class can take more than 2 years. Please note that this timeframe will vary based on the following factors:
Completeness of the application;

How easily the information provided can be verified;

How long the applicants take to respond to requests or concerns;

Such other factors that may affect the application process
Please note that currently, processing times are affected by COVID-19 and it may take longer than normal to finalize the application.
Contact us today to get an assessment of your eligibility and offer you the best action plan to make you our another success story. Tel: +1-416-272-3939; email: law@konanlaw.com or fill out our free online assessment form.