This program allows trade worker and technicians from any country to submit their Express Entry Profile. The Federal Skilled Trades Class (FSTC) is the only federal economic immigration program that singles out workers in trades sector.
This program allows experienced trade workers from around immigrate to Canada under the Express Entry Pool.
The candidates must:
Meet the specified language levels (speaking, reading, listening, and writing). The specified minimum results are Canadian Language Benchmark (CLB) 5 for speaking and listening, and CLB 4 for reading and writing;
have accumulated a minimum of two years of full-time work experience (or the equivalent in part-time work experience) within the skilled trade occupation during the five previous years
be ready to demonstrate that the talents and knowledge gained covers the essential duties of the occupation; and
Have received a full-time offer of employment from one of two Canadian employers OR hold a certificate of qualification therein skilled trade from a Canada province or territory authority.
Must have a settlement fund (Settlement fund for FSTC is same as FSWC)
The Federal Skilled Trades Class (FSTC) In 5 Simple Steps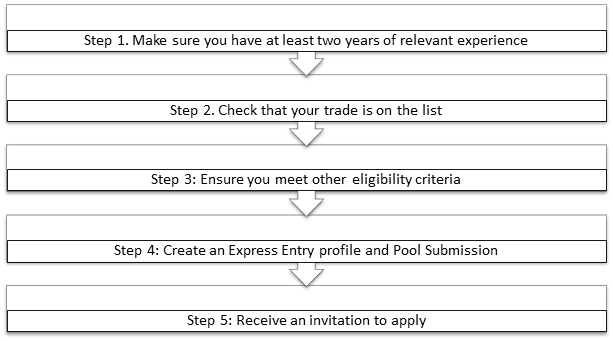 ---